Every cyclist wishes for comfort and speed. Putting on slimmer tires might help you attain that. Generally, people want to for road tires when they want to tour or travel around the city. There are several types of road tires, so picking the precise one is vital.
Can You Put Road Tires on a Hybrid Bike?  Yes. You can put road tires on your hybrid bike. Attaching slim tires or lowering the size by two is perfectly fine. You must precisely calculate the size of your frame before you choose to fit one. 
Both road and hybrid tires have their quality, and in this guide, we will explore a few. So, please keeping reading to give your hybrid bike its ideal tire!
Road Tires Vs Hybrid Tires
The most common differentiating traits of the two are speed, size, and distance. Briefly, hybrid tires are thicker and broader than road tires. But, again, it is because hybrid is suitable for varied terrains and multiple uses.
Road tires are usually slim and most suitable for plain terrains. Moreover, they also have a good grip and ensures effortless rides each time.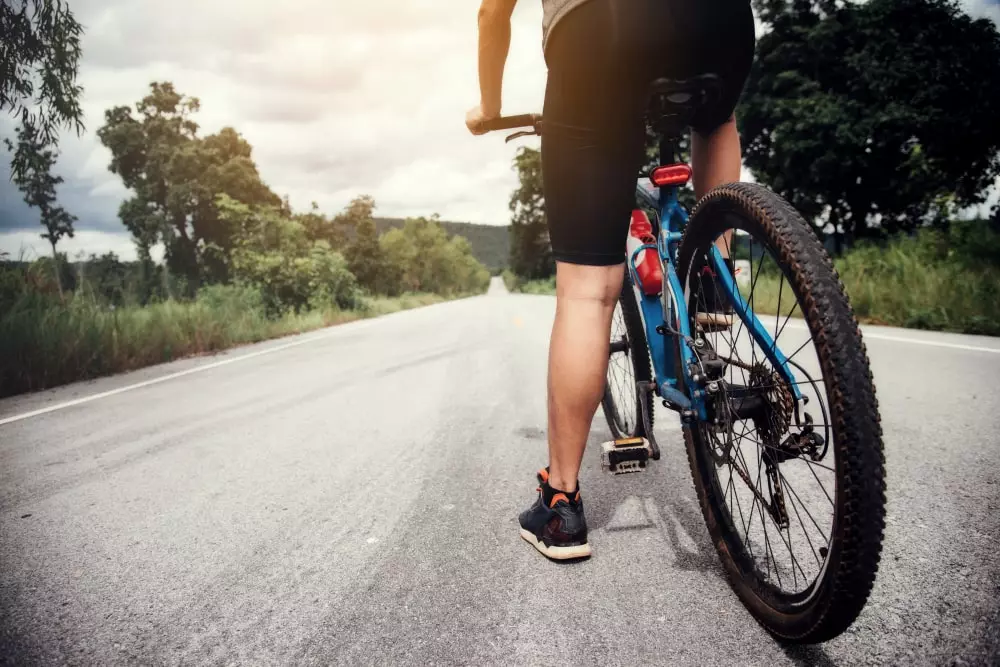 So, if you own a hybrid bike but do not use it for mountaineering and other activities, you can switch to road tires. It will make your journey better and by lowering friction. 
Both the tires are great for rides. Hybrid tires focus on comfort, whereas road tires are more focused on agility. Below is a list that highlights the purposes of both tires.
Size
Hybrid bikes tires are around 35mm to 45mm in diameter, which is approx. 70 c. Its size is usually written on the tire. These sizes vary from company to company. However, the measures for 'C' remain the same for all. Road tires are slim are around 23mm to 30mm. 
Also, focus on the pump valve of the wheel. Bikes have two types of valves. One is Schrader which is flat and thin. And the other is Presta, which has an exposed valve.
Speed
Road tires are thinner and have lesser contact areas. As a result, it reduces friction and resistance to give your bike more speed and smoothness. However, agility does not affect the quality of the tire.
Talking about hybrid tires, they are wide and more focused on traction. That is because they are suitable for rough terrains. So, both speed and traction are crucial features. However, you will have to give up on one of them to get the other.
Distance
For long distances, indeed, hybrid tires are the finest. It is not because hybrid tires give more comfort than road tires. But because of their traction and grip.
However, if you want to race on a long road, go for road tires only. It is because hybrid bike tires have thick rubbers that require more effort. 
On the other hand, road tires are light and swift, making them suitable for long racing rides. But if you have good practice with hybrid, you can use them effortlessly for racing too. So, in the end, it all depends on practice and knowledge.
Quick View 
| Hybrid Tires | Road Tires |
| --- | --- |
| More fraction and resistance. | More speed and lesser resistance. |
| Best for dirt bikes, mountaineering, and rough terrains. | Best for touring, racing, and commuting. |
| Tires are thick and broad. | Tires are thin and sleek. |
| Heavy | Lightweight |
Editor Pick Best Road Bike Tire
Sale
Bestseller No. 1
Bestseller No. 2
Bestseller No. 3
How To Install Road Tires on a Hybrid Bike?
Installing road tires in a hybrid bike can be challenging because of differences in widths. But, it is feasible. It would help if you saw how much clearance you have and make a certain choice.
Attaching On The Front
Check The Down Tube Space
One must always measure and check how much clearance is there before the tire hits the down tube. Being sure about this is crucial, or your tire will not fit.
Width and Height Space
The next factor to check is fork clearance. Considering the clearance available under the fork crown is crucial for an ideal fit.
Front Brake
Not just the crown fork, but the braking system must be perfect too. You must check if the slim tire will fit inside the frame. And if it does, you can try different brakes too.
Attaching On The Rear
Width
You must check for width for an ideal fit. Your road tire must perfectly fit in the frame for safety and results.
Bridge space  
The bridge seat must be well, and your tire must be away from chainstays. If you do not ensure this, your bike will fail to move and consume more effort.
Overall space  
Check your bike before trying. The geometry of your bike must be able to adapt with thinner tires. Usually, one or two sizes down work well. But checking on it is crucial because some bikes do not allow slimmer tires.
Rear Brake
Similar to the front tire, you will need the brake in place for the rear tire too. Again, it ensures safety so double-check this part. 
If clearance is suitable, then switch your braking system to an effective one for additional safety. Remember, road tires do not have traction, so your brakes must be perfect.
Conclusion 
Altogether the answer to 'Can You Put Road Tires on a Hybrid Bike?' is partly yes. It solely depends on your bike and its geometry.
However, it is usually suitable for tires that are two levels thinner. On the other hand, three-level thin tires may not work for all bikes. So, ensure you check on that well before purchasing a road tire for your hybrid bike.
Both the tires serve differently and so choose as per your need. Comfort, speed, budget, and many other factors will direct to an ideal choice. Just ensure you have appropriate measures for the road tire to fit in your hybrid bike perfectly.
Enjoy racing on your hybrid bike by installing these tires today!