Being parents, you are always concerned about your child's safety while they are riding the bikes. To protect your kiddo, make sure you bring them the correct bike size so that they can easily reach the ground while sitting on the seat. 
But the seat shouldn't be too low, or the wheels are not too small to ride comfortably. 
So, what are the best as well as lightweight bikes for 6 to 8 years old kids? For this age, you must go for the 18-to-20-inch bikes. These are designed with comfortable features for the kids, like smooth gears, kickstands.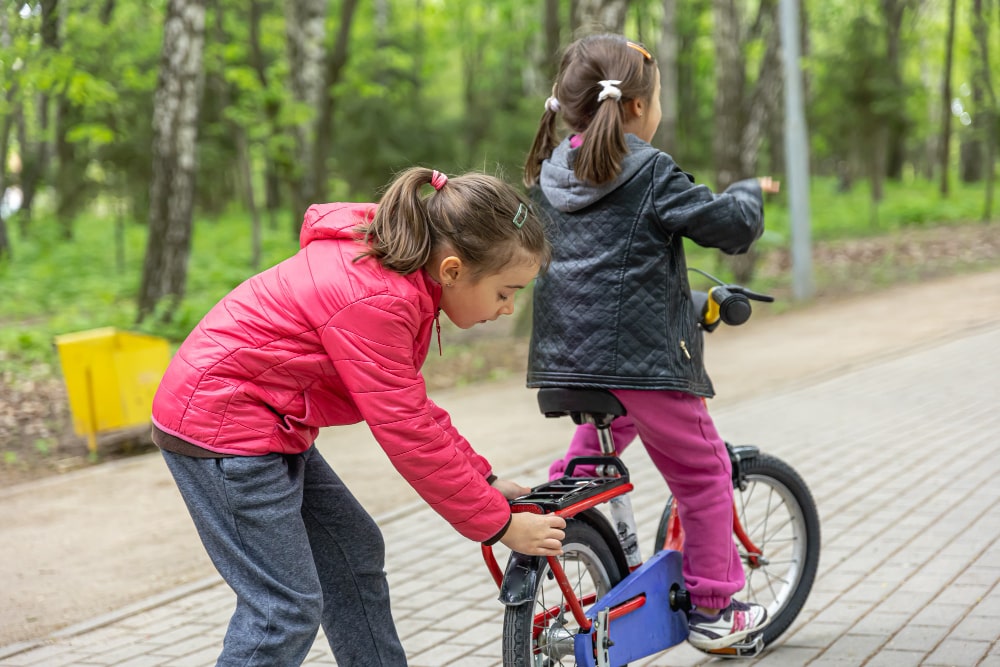 When you search for the best 18-inch bike for boys, you need to keep two things in mind. 
Make sure your ward shouldn't move up to this size. 
Be aware of the durability, and fine grip means good breaks. 
Check out these four best 18-inch bikes for boys and girls. Keep scrolling and stay tuned with this to know more about the best bike features. These will help you to buy the perfect bike for your kiddo. 
Our Pick Lightweight 18 Inches Bike For Boys
The 5 Best Lightweight 18 Inches Bike [2021]
This RoyalBaby Kids Bike is a fantastic way for your ward to ride and roam around your neighborhood. This is one of the best 18-inch bikes for boys and girls; also, it is the ideal one for beginners. 
This epic bike is coming along with the training wheels that help the children to learn to balance and stabilizing themselves while riding. Once they gain confidence, you can easily remove or adjust the wheels to give your kiddo a bit more comfort. 
You are going to love the color variations that perfectly suit your ward's fashion. This bike will help them to enjoy their outing. 
Why This One
Easy to assemble: 95% of the bike is assembled; you don't need to take any headache to fix those spare parts one by one. You can easily set it using the assembly tools and user-friendly manual instructions included in the packaging box. 
Fine Break grips: RoyalBaby Kids Bike means safe riding. Its secure grip, handbrake, rear coaster brake, front caliper brake offers strong safety. The wide pneumatic tires provide more protection.
Stylish Design and Color: RoyalBaby comes with some fantastic designs and bright, charming colors. Your little one will love to ring the bell, and the DIY decal will give extra fun to their ride. 
Keep in Mind
Sitting Issue: The bike seat is placed in a very awkward position and too hard to sit after a certain period of riding. 
Hard Paddle: The bike is hard to pedal. Even some customers say it's tough to rotate completely. 
The Schwinn Elm Girls Bike is designed using lightweight materials. This girl's bike with 18-inch wheels is made to give a solid balance to the children of 3 to 7 years old. Compared to other bikes, this one is genuinely lightweight and smooth. 
Some of the fantastic features of this elm bike included Schwinn's SmartStart Technology, smooth gear, soft, adjustable seat and narrower pedal. This bike is suitable for kids 3 to 7 years old, height between 42 to 52 inches. 
The training wheels provide a cushioned and smooth riding. Girls will love the look as it comes with the colors like Pink, Purple and Teal. If she wants to stop driving, she can use the soft coaster brakes. 
Why This One
Fashionable Design: Schwinn Elm Girls Bike has a unique and cool look. The wide tires, bold design give a trending vibe that your girl indeed loves it. 
Easy Braking System: The easy braking system of this bike gives a comfortable and confident grip. While riding, every rider is looking for a soft stop; this Schwinn Elm bike is ideal for that. 
Growing Room: The adjustable saddle, seat post and slack seat-tube angle make it easy and hassle-free adjustment. It allows the girl's bike to grow with your princess and make it a full-sized bicycle. 
Keep in Mind
Quality Issue: Some bike pieces, like a basket, contain enormous cracks, and other body parts also lack quality. 
Poor Peddles: After few uses, the peddles get lose, and your girl can't be able to use them again. Also, it's not so smooth to ride. 
Joystar Totem Bike is a fantastic collection for your little hero. Using this best 18-inch bike for boys, you can teach and provide your young one a great bicycle life. 
It comes with some fantastic features like a high-tensile frame for long-time riding, full covered chain guard to avoid any misery; this bike is suitable for both boys and girls. 
The wide tires add excellent stability and the aluminum wall rims make it to be a lightweight bike. Your child will enjoy the riding as it provides smooth and speedy riding. 
Why This One
Minimum Maintenance: The Joystar Totem bike is made with premium steel and provides a durable steel frame along with a limited lifetime warranty. It comes with a simple design and requires minimum maintenance. 
Safe Chain Guard: The chain guard works as a protector for your child. It will stay longer compared to other bikes. Your young one never gets hurt by this chain. 
Fantastic Design: This bike is specially designed with a stable training wheel for the beginner rider. The adjustable seat helps your ward to sit comfortably. 
Keep in Mind
Low-Quality Tires: The tires are of inferior quality. Sometimes it doesn't set correctly. You may need to work a bit hard to fix it well. 
Chain Slips off: A weird complaint is that the chain slips off gears continuously, which is irritating. 
For the active child, you can go for this bike from Coewske. Its ultra-light body material helps those boys and girls who love speed. 
This bike is designed uniquely, and the frame is more durable and provides a smooth ride. The wide white tires are textured amazingly to give extra grip to off-road. 
Everything about this bicycle works to stabilize the journey of your little princess. It helps to feel more confident while riding the bike all around. 
Why This One
Hand V Brake Plus: The front and rear hand V-brake Plus, the coaster brake provides ample stopping power, and its easy, smooth grip gives a beautiful soft riding. 
Wide knobby air-filled tiers: 2.125 inches wide tires provide a super smooth drive. It's made with durable rubber with extra thickness and width that prevents the dangerous burst out.
Beautiful Basket: The basket is very fashionable and helpful to carry the toys, food, water etc. 
Keep in Mind
Missing Kickstand: Some customers complain that the bike comes without any kickstand. 
Peddle Bearing Issue: After a few days, the user can face the peddle-bearing issue. 
This Mongoose Switch bike is just the perfect one for beginners as it comes with the training wheels. This 18-inch bike is suitable for kids between 5 to 8 years.
A low and hi-tensile steel frame provides easy and user-friendly access for your young one. It comes with a comfortable foot brake for a confident stop. This BMX 18-inch bike is durable for aggressive riding.
Your kid will love to drive this bike. It's easy and smooth to turn left and right and build up speed.
Why This One
Awesome Durability: Made with hi-tensile construction, it's the perfect match for beginners to roam around your house. You can adjust the height of this bike.
Brakes and Steering: BMX driving means it's all about control, and its brakes play an important role. The linear-pull brakes need a minor adjustment to good for the aggressive speed control.
BMX Tires: The aluminum rims and optimal grips of the BMX tires are highly designed to run off-road. It also optimizes the rider's stability.
Keep in Mind
Needs Adjustments: Some parents noted that few segments need a few adjustments like the brake, chain, and the steerer tube bearings. These are too tight to play well.
Poor Quality: The bike material, tier, brakes quality is not good at all.
Frequently Asked Question (FAQ)
Q1: Do kid's bikes come in 18 inches?
Ans : Of course, it comes in 18 inches, but there are several sizes, like 12-14-16 inches. You can choose the best one as per your kid's age and height. But for beginners, an 18-inches bike is just the perfect one.
Q2: What age is an 18-inch bike for?
Ans : 16 to 18inches bikes are perfectly suitable for the 5 to 7 years of kiddos. Some 18 inches bikes come along with the adjustable facility; that bike will grow with your kids.
Q3: What size does an 18-inch bike fit?
Ans : Rider height must be between 5'6" to 5'10" or 168 cm to 178 cm to ride an 18 inches bike. If your kid is a newbie, then this 18-inch bike is perfectly suitable for your young one.
That's the Best Choice
It's a fantastic feeling to watch out for your baby upgraded for a giant bike. But you have to ensure that your young one feels safe and secure while trying to ride a motorcycle as a learner. Choosing the best bicycle for your ward is undoubtedly a good decision. 
But it's challenging to pick the right size – we suggest you go with the height or inseam measurement as these are correct. Then search for a bike that has a seat height adjustment facility, go for the lowest setting. It helps the ride have ample room to grow. 
Don't forget to capture plenty of moments while your kids are roaming on their new bikes. You will both relish the memories and moments shortly.