BMX bikes work poorly for long distances or commutes due to the length of the bicycle, overall height, and low tires.
Have you ever wondered if BMX bikes are good for long-distance movement? Or have you ever considered traveling back and forth on a BMX bike?
Unlike the average bike, BMX bikes are shorter and have different tires, with many not having brakes. This affects its ability for long-distance riding.
They are designed only for doing stunts and tricks. But this does not stop people from using it to commute. Using them on smooth terrain is possible, but it still takes effort.
In this article, we'll discuss how you can convert BMX bikes for long distances or what bikes are good for long distances.
What Are BMX Bikes?
BMX Bikes are bikes designed for stunts and tricks. You can recognize them due to their smaller frames and wheels. Due to their simplistic design, you can ride them in intense areas like skate parks.
A BMX is a hybrid between a motorcycle and a bicycle. Although these bikes can take long-distance journeys, they're not perfect.
The primary objective of these bikes are usually stunts and racing, similar to your typical motorcycle bike.
These bikes function as a means for cyclists to participate in motorized sports without using motorcycles. Today, acrobats and biker riders use this bike to attempt tricks and jumps.
Also Read : Are Bmx Bikes Good For Trails (Answered)
Do BMX Bikes Work For Long Distance?
No, They're not designed for long-distance travel but pull stunts, off road journeys, and perform tricks.
BMX bikes are not ideal for a long distances. A BMX bike's lower tires and shorter overall length and height make it less suitable for long distances.
As you know, when you ride a bike, you will need a lot of space to extend your legs.
If you cannot do that, you need to put in more effort in peddling, leading you to tire out quickly.
BMX bikes are supposed to be ridden while standing. It's only on rare occasions that you'll find someone riding a BMX bike while sitting for a while. I am also sure no one wants to ride a bike standing for hours.
Also Read : Are BMX Bikes Good For Commuting? (Explained)
Can You Convert a BMX Bike For Long Distance?
Yes, you can convert a BMX bike for long distances if you have no choice.
As a rider, if you have no options, then you may be able to convert your BMX bike for long-distance riding with a few modifications.
However, you may not get the most comfortable experience out of it, but it will be better than going without modifications.
How To Convert a BMX Bike For Long Distance:
Step 1
Install a quality padded seat with a comfortable seat cushion
Step 2
Raise your bike seat to your height so the bike functions properly.
Step 3
Change the off-road tires preinstalled in the bike to on-road tires.
Step 4
Upgrade your bike's back wheel brakes to the U-brakes if it didn't come with one.
Make sure to test the brakes extensively before heading out. Even with all these conversions, riding a bike for long distances doesn't become easy.
As a result, if you want to drive for hours, expect to spend a little more time riding because you will travel at a slower speed and frequently need to use the brakes.
Can You Use Your BMX Bike For Commuting?
Yes, BMX bikes are used for commuting, but only if you use public transportation to complete some of your daily commutes.
While doing your daily business, you might want to commute around with your BMX bike.
Well, the BMX bike is ideal for your daily commute, but it doesn't mean the bike would perform better than it's supposed to.
You're still going to face some difficulties in riding uphill or on paved surfaces, but aside from that, we can recommend using the BMX for your daily commute.
By their nature, a BMX bike is smaller and cheaper than the standard bike, so if you use them while also using public transportation during your commute, then the BMX bike can serve because, due to their sizes, you can take them on a bus or train with you.
Furthermore, people usually compare BMX bikes to skateboards because you can maneuver fast on them, which is better than many bikes.
Their small backend is best for sharp turns or corners and maneuvering around complex streets.
However, you should ensure that your daily commute doesn't include a lot of uphill traveling because you will be tired before getting to your destination.
If you must use a BMX bike during your daily commute, we advise you to invest in a quality BMX bike for park and street riding.
Are BMX Bikes Faster Than Mountain Bikes?
Yes, the average BMX bike is 35 mph faster than a mountain bike.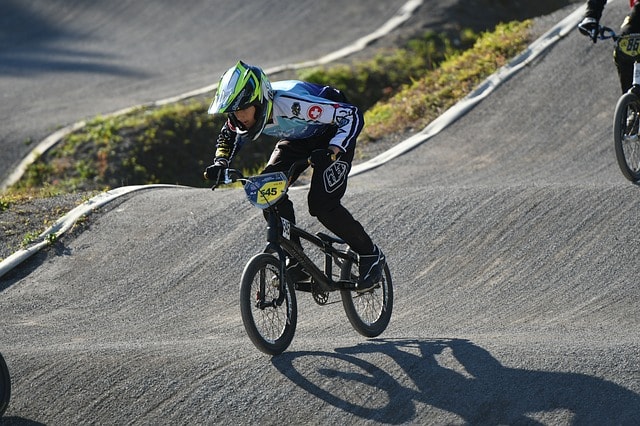 The average mountain bike has nothing on the BMX bike regarding speed and usability.
The average top speed for a mountain bike is 30mph which is about 48kph, while the average top speed for a BMX bike is 35mph which is about 56kph while riding downhill.
So if you're contemplating which of these bikes would serve you better in terms of speed, then the BMX bike is your best bet.
What Bikes Are Good For Long Distance?
The best type of bike good for long distance riding are touring bikes.
As the name suggests, it is a type of bike made specifically for long distance rides, and there are many types in the market.
However, you can also use on-road and mountain bike models for long distance riding as well.
Let us look at the touring and mountain bikes you can use for long-distance riding.
1. Schwinn GTX Comfort Adult Hybrid Bike
Schwinn GTX 2.0 Comfort Adult Hybrid Bike for Men and Women, Dual Sport Bicycle, 700c Wheels, 17-Inch Step-Through Aluminum Frame, 21-Speed Twist Shifters, Mechanical Disc Brake, Light Blue
Hybrid bike with an aluminum dual-sport frame and suspension fork that offers limitless adaptability, 700c wheels that fit to riders 5'2" – 5'9" tall
Adult mountain bike is equipped with 21-speed twist shifters, ensuring effortless and accurate gear adjustments
Mechanical disc brakes offer enhanced stopping power, providing you with additional control and braking performance
Enabling precise riding, the handlebar and stem combination strikes a balance between lightweight design and durability
Triple-density ergonomic grips and sport saddle touch key comfort points to soften the ride
The Schwinn GTX comfort adult bike is a multisport hybrid bike that will fulfill all your biking needs. The bike comes with a step-thru frame, 21- speed trigger shifters, mechanical disc frame, and suspension fork.
For durability and speed, Schwinn GXT is one of the best options in the market, and it is great for versatile riding environments.
2. Schwinn High Timber Mountain Bike
Schwinn High Timber Youth/Adult Mountain Bike for Men and Women, 27.5-Inch Wheels, 21-Speed, Steel Frame, Black
Lightweight 16-inch steel frame is the perfect bike for rides around your neighborhood or trails. The 24-inch wheel frame fit riders 5'5" to 6'0" inches tall
Bicycle comes with an alloy crank that provides steady gear changes that cause less maintenance
Mountain bike has twist shifters with a rear derailleur to make gear changes quick and easy
Wide knobby mountain tires sit on a lightweight and durable alloy wheel that adds stability and balance to the rider for all weather and terrain types
Front and rear alloy linear pull brakes provide secure stopping power and speed control so you can ride with confidence in a variety of conditions.
The high timber mountain bike is ideal for riders operating on different terrains. The high timber mountain bike can handle whatever activity you decide to do.
Designed with an upright riding frame, linear-pull brakes, and suspension forks, the bike would deliver controlled riding until you get to the tour destination.
3. Royce Union RCF Mountain Bike
ROYCE UNION RCF Lightweight Carbon Mountain Bike, Gloss White, 27.5 inch Wheels / 16.5 inch Frame
Cutting Edge Carbon Frame: The carbon hardtail mountain bike frame is lightweight and strong; WTB Volt saddle and WTB Trail II grips are extremely comfortable even on long rides (kickstand not included)
Drivetrain: Shimano SLX 2 x 11 shifting; Shimano SLX rear derailleur; Neco alloy 3-piece crank, 11x42 cassette
Fork: Suntour XCT suspension fork offers 100mm of travel, absorbing bumps and keeping you in control
Wheels & Tires: WTB alloy rims; quick release hubs; Kenda Small Block 8 tires
Brakes: Dual hydraulic disc brakes provide precise and effective stopping power
The Royce Union RCF mountain bike is designed for riders passionate about taking long trips. The bike is perfect for dirt roads and light trails, but it will also be comfortable for neighborhood rides.
The bike comes with an aluminum frame and a 21-speed Shimano drivetrain. You can easily assemble this bike using 4 steps.
Final Verdict
Long distance rides with BMX bikes are not recommended. These bikes are designed for quick travel over a short distance or stunt jumping.
BMX bikes can be converted to ride long distances, but it isn't recommended. Investing in a touring bike would be better if you want to make long-distance travels.